Yoink 1.0.0 d6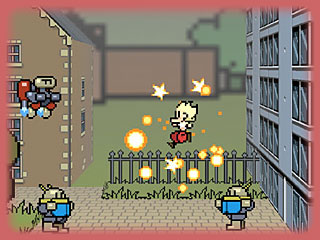 Leap tall buildings! Crush stupid robots beneath your feet! Wield your extra-terrestrial powers in the defence of humanity and send those alien invaders back from whence they came! Do all these things (apart from the last one at the moment) in my new game, Yoink!
This new version adds score and health bonuses, dropped by the enemy when you defeat them. No more running away to heal yourself - you've got to get in amongst the action to keep yourself in good condition!
If you have any suggestions or bug reports, please contact me in the usual way.
Yoink will run on any G3 or G4 with at least Mac OS 9 or Mac OS X 10.1 and a fast graphics card that can accelerate OpenGL. Under Mac OS 9, CarbonLib 1.5 is required.
uDevGames 2003: Yoink is a winner!
Yoink was my entry in the uDevGames 2003 contest. uDevGames is an annual event held by the iDevGames Mac game development website.
Yoink won in two categories, coming first in originality and fifth in graphics. Yoink also came sixth in gameplay and was judged to be the sixth best game overall. Needless to say I am very happy with the results! Many thanks to everyone who voted for Yoink, and congratulations to all the other winners!
Although the contest is over, many of the games are still available from this thread in the forum. If you haven't already tried them all, take a look - there were some excellent games this year.
Source Code
The Yoink source code (1530KB) is available for use under the zLib License. Please read the license carefully and credit me if you use my code.
The source code archive is only useful to programmers - if you only want to play the game, you don't need it!
Yoink is written in C++ using MetroWerks CodeWarrior 8 and will probably require some modifications before it will work with another compiler. The most important technologies used in Yoink are OpenGL, Carbon CFM, DrawSprocket, InputSprocket (under Mac OS 9), Sound Manager, Core Foundation, STL and TinyXML.
If you have any comments about my source code (especially if you can see ways to make it better!), or if you're making something interesting with it, please let me know.